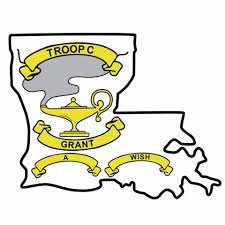 20th Annual Troop C- Grant a Wish Golf Tournament
Louisiana State Police Troop C Grant-A-Wish is a non-profit 501(c)(3) wish granting organization.  The goal of the organization is to grant wishes to children, under 18, with life altering, life threatening, or terminal illnesses who reside in the Troop C Community.  The Troop C community includes Assumption, Lafourche, and Terrebonne Parishes, and St. James and St. John Parishes on the west side of the Mississippi River.  In September, of 1989, the Troop C Trooper's Association adopted the Troop C Grant-A-Wish Program.  WIshes are granted on a case-by-case basis after careful consultation between the Grant-A-Wish Board of Directors, the child's family and the treating physician.  Our organization is funded through the generous donations from our sponsors and our annual golf tournament.
About the Event:
A great day of golfing, food & drinks, prizes, giveaways and most of all "Making Wishes Come True!"
Team & Hole Sponsor positions are filling up fast, applications are now being accepted so please don't wait!
The Kids Are Counting on You!
http://www.tcgaw.com
To register or for more information go to: http://www.tcgaw.com/08262019/index.html#events